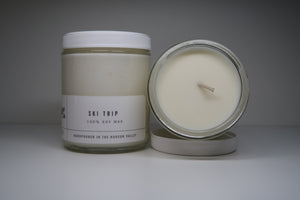 Ski Trip Candle
Made from a blend of natural waxes and essential oils that provide a refreshing and invigorating scent reminiscent of a day on the slopes. The candle burns cleanly and evenly, filling your home with its delightful fragrance. Whether you enjoy skiing or not, this candle is the perfect way to bring the crisp, clean air of the mountains into your living space all year round. 
Ingredients: 9 oz. of wax, 35 hours of burn time, 100% Soy Wax, Wax and Container made and produced in the USA.
Tip: For best result and cleanest burning, wick must be trimmed regularly.