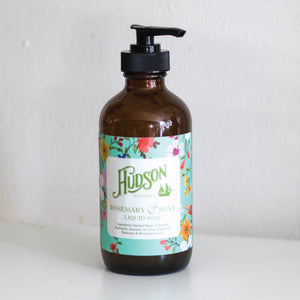 Rosemary Mint Liquid Soap
Scent: All Natural Rosemary Mint

Hand & body wash formulated with the finest organic plant-based ingredients. This pure and gentle liquid soap creates a nice lather, hydrates, and leaves the skin clean and fresh.
Ingredients: Potassium Hydroxide,Distilled Water, Avocado Oil, Olive Olive, Castor Oil, Rosemary & Mint Essential Oil.

That's it! No alcohol, no SLS, no parabens. No preservatives are needed because of the natural of the natural soap.