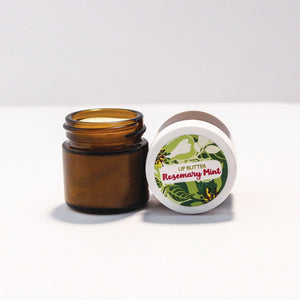 Rosemary Mint Lip Butter
Scent: Rosemary Mint Lip Butter

Our lip butter is made with moisturizing Shea Butter and essential oils — no artificial fragrances or flavors — and condition beautifully. 

Truly Natural. Everything we create contains the finest all-natural ingredients, with an emphasis on ingredients that are plant-based, organic, and food-grade. Each ingredient is included for a therapeutic reason. No animal testing is conducted on our products or ingredients. All of our oils are cold-pressed or steam distilled. These are the best extraction methods available and lead to premium quality oils. All products are handmade in small batches.
Each jar is 1 oz. This is about four times as much lip product as an average tube of lip balm contains.
Tips for use: Please apply a little at first; if it absorbs well, go ahead and apply a bit more. Will give your lips a little sheen and a lot of moisture.