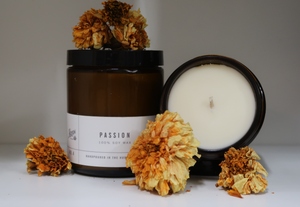 Passion Candle
Our Passion Candle is a high-quality product made from all-natural ingredients that will help you create a warm and romantic atmosphere. It has a long burn time and is guaranteed to enhance relaxation.
Ingredients: 9 oz. of wax, 35 hours of burn time, 100% Soy Wax, Wax and Container made and produced in the USA.
Tip: For best result and cleanest burning, wick must be trimmed regularly.