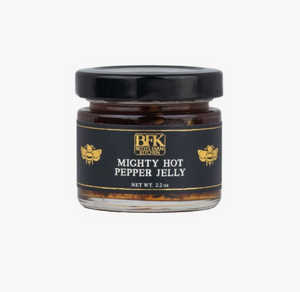 Mini Mighty Pepper Jelly
Sweet & Spicy condiment - our signature pepper jelly! Spread some on your favorite bread for a wow-grilled cheese sandwich.
* Perfect for cheese and charcuterie board! - Vegan - Gluten-Free - No artificial colors or flavors - No artificial sweeteners - 2 oz Jar (gift basket and travel size)
Natural Ingredients: cane sugar, peppers, cider vinegar, pectin, crushed red pepper
-Food Pairing: tofu, chicken, pork chops, steak, salmon
- Cheese Pairing: Brie, Sharp Cheddar, Gouda, Manchego, or Blue cheese
Shelf Life: unopened 24 months, opened and refrigerated 3 months.