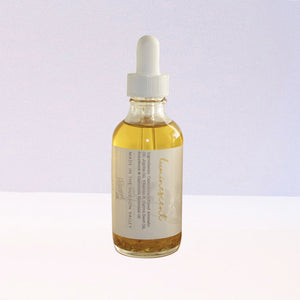 Luminescent Facial Serum
Calendula Face Serum is a nourishing blend of pure plant oils that are rich in omega's & essential fatty acids that increase skin's elasticity and promote cell renewal. These oils are very effective as they offer intense hydration and absorb quickly.
Organic infused calendula oil, extracted from organically cultivated calendula blossoms, possesses anti-inflammatory, antispasmodic, antimicrobial & antiseptic properties. 


It's an excellent "hydrator" for your face and neck, but it can be used to treat specific skincare needs such as; eczema, psoriasis, minimizing the appearance of scars & fine lines. Recommended for all skin types, especially for premature and mature complexions, this nourishing serum soothes hydration-deficient and sun damaged skin. 


It has soothing, healing and regenerative properties that supports healthy skin.


Rich in carotenoids and flavonoids, these substances are actively beneficial to skin protection. Ideal for sensitive skin and helps to relieves irritations.


This all natural & Organic Calendula Face Serum is freshly made in small batches and contains 


NO PRESERVATIVES.