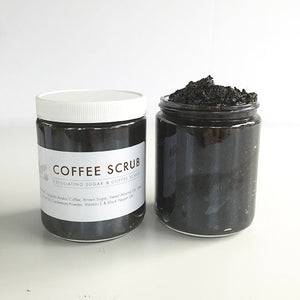 Coffee Scrub
Scent: Coffee Scrub with Cardamom
This scrub is a deliciously invigorating blend of firming, exfoliating and antioxidizing ingredients for smooth and supple skin.
Use: While showering, massage into warm, damp skin in circular motions. Rinse well.
Ingredients: Made with Organic Arabic Coffee, Brown Sugar, Sweet Almond Oil, Avocado Oil, Shea Butter, Cardamom Powder, Vitamin E, and Black Pepper Oil.