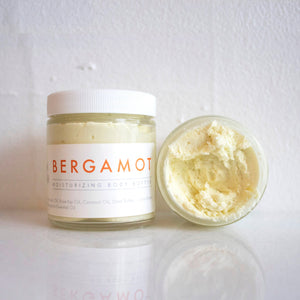 Bergamot Body Butter
Scent: All Natural Grapefruit Bergamot Body Butter
This intensely rich vegan body butter will make dry skin very happy! 
Made with many luxurious oils and butters including: raw organic free trade shea butter, cocoa butter, unrefined avocado oil, rosehip seed, & coconut oil. All of these oils are extremely beneficial for the skin making this a moisturizing treat for the entire body. It also works great as a facial night cream.
Also, this body butter is very rich & concentrated and will last a long time! Remember a little goes a long way. It does not contain any fillers, cheap ingredients, chemicals or preservatives.
Ingredients: Organic Free Trade Shea Butter, Cocoa Butter, Rosehip seed oil, Avocado Oil , Coconut Oil, Bergamot and Grapefruit essential oils.
Please Note: This body butter needs to be stored in a cool place and will become soft in warm temperatures. If it becomes too soft, or melts to a liquid, just place it in a cool place, and it will become solid again. It cannot be shipped during summer months (June-September).